Marks Clearing & Grading began in 1974 as Marks Brothers Construction Company.  Brothers, William "Buddy" Marks and Jerry Marks both had a desire to go into the land clearing business in addition to keeping their full-time jobs.  Their first purchase was a small bulldozer and a 1964 Chevrolet flatbed truck.  They began their land clearing business mainly by cutting-in roads and clearing farm land.
By 1976, the demand for land clearing had grown to a point that it could not longer be handled on a part time basis.  After much prayer, it was decided that Buddy would quit his job and would take over the business on a full-time basis.  At that time, the name of the business was changed to Marks Construction Company.
Today, Marks Clearing & Grading has a fleet of six roll-off trucks, two dump trucks, log trucks, and an arsenal of heavy equipment to tackle any land clearing and grading project.
In July, 2012, a second company was formed to meet the demands of the growing demolition side of the business.  "Marks Demolition & Environmental Group, Inc." obtained certification by the State of Georgia as a licensed Asbestos Abatement Company on October 29, 2012.  Grandson, John Partridge, is the Principal Agent for the demolition company and handles the day-to day operations.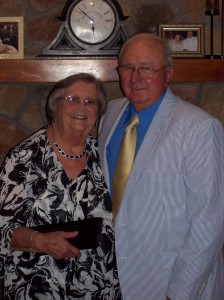 William (Buddy) & Rosa Marks
President & Owners
Anne Marks Partridge (daughter)
Corporate Secretary & Operations Manager
This email address is being protected from spambots. You need JavaScript enabled to view it.
Derek Partridge (son-in-law)
Project Manager for Clearing
John Partridge (grandson)
Project Manager for Demolition
This email address is being protected from spambots. You need JavaScript enabled to view it.
We don't just stop at land clearing and demolition!  Marks Clearing & Grading offers dump truck rentals all over the CSRA.  Our fleet of dump trucks are available and equipped to haul a wide variety of materials. Whether you need a load of gravel for your driveway or multiple loads of dirt to fill in a new foundation, we can take care of all your dump truck needs. We also offer "by the hour" dump truck rentals. Our dump truck rentals are perfect for jobs that require only a few hours of needed work, and help to get the job done fast and efficiently. Contact us today to get a quick and easy quote on our hauling or dump truck rental services.
Examples of materials that we haul include:
Mortar Sand
Sand Clay
Fill Dirt
Top Soil
Mulch
Gravel
In addition to these, we offer recycled/crushed concrete and bricks.
Call for a price quote and to schedule a load:
706-592-4374
Anne will be happy to assist you.
Corporate Secretary & Operations Manager
This email address is being protected from spambots. You need JavaScript enabled to view it.
Since 1974, Marks Clearing & Grading has become one of the oldest and largest residential and commercial land clearing companies in the CSRA. We have many years of experience in the construction, demolition, clearing, and hauling business, and we know what it takes to get a land clearing or grading job done right the first time – every time.  Our team handles everything from start to finish, including disposal, so our customers can focus on other aspects of their project.
Although many land clearing jobs are for residential home building and new construction jobs, we are equipped to handle any size land clearing job you may have. We clear land for businesses, schools, and churches. Some of our long-time residential contractors include many of the finest homebuilders in the CSRA/Augusta, GA area: Wahl Custom Homes, Blackburn Homes, Mount Paran Homes and J. Reynierson Homes. Contact us today to handle all of your clearing needs, no matter the size.
Call Today!
706-592-4374
Derek Partridge will be glad to speak with you regarding your clearing needs.