Marks Clearing & Grading began in 1974 as Marks Brothers Construction Company.  Brothers, William "Buddy" Marks and Jerry Marks both had a desire to go into the land clearing business in addition to keeping their full-time jobs.  Their first purchase was a small bulldozer and a 1964 Chevrolet flatbed truck.  They began their land clearing business mainly by cutting-in roads and clearing farm land.
By 1976, the demand for land clearing had grown to a point that it could not longer be handled on a part time basis.  After much prayer, it was decided that Buddy would quit his job and would take over the business on a full-time basis.  At that time, the name of the business was changed to Marks Construction Company.
Today, Marks Clearing & Grading has a fleet of six roll-off trucks, two dump trucks, log trucks, and an arsenal of heavy equipment to tackle any land clearing and grading project.
In July, 2012, a second company was formed to meet the demands of the growing demolition side of the business.  "Marks Demolition & Environmental Group, Inc." obtained certification by the State of Georgia as a licensed Asbestos Abatement Company on October 29, 2012.  Grandson, John Partridge, is the Principal Agent for the demolition company and handles the day-to day operations.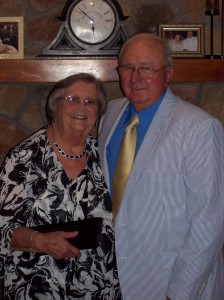 William (Buddy) & Rosa Marks
President & Owners
Anne Marks Partridge (daughter)
Corporate Secretary & Operations Manager
This email address is being protected from spambots. You need JavaScript enabled to view it.
Derek Partridge (son-in-law)
Project Manager for Clearing
John Partridge (grandson)
Project Manager for Demolition
This email address is being protected from spambots. You need JavaScript enabled to view it.